FURTALK Winter Women Ponytail Beanie Hat Drop Shipping SFFW035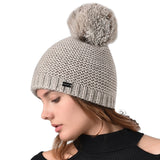 This Acrylic knitted messy bun beanie hat is knit in colorful yarn color and with the Furtalk logo. One size fits all. Machine washable.
It is convenient for girls who have a ponytail
Made in China
FURTALK brand original designed beanie hat keep you warm for outdoor activities, and classic style is suitable for any occasions; Just enjoy playing, do Not be afraid of winter cold!
More from this collection